Elvington Out of School Club
Elvington Out of School Club opened in September 2013. We provide out of school care for children up to age 11 years at the Lower Derwent Sports and Social Club, Elvington Lane, Elvington YO41 4DY.
We are registered with Ofsted (Reg number EY469368) to provide an after school and holiday club. We are open after school until 6pm Monday to Friday. These places are for children attending Elvington C.E. School (we collect from school and provide a walking bus to the venue). Places are also available for Elvington-based Year 7 pupils at Fulford School (who can come to the club when they are dropped off by the school bus in the village).
We also run a holiday club which will be open to ALL children aged 3-11 in the local area regardless of the school they attend. Our holiday club runs every day of the school holidays, except the first two full weeks of the Summer break, bank holidays and from Christmas Eve until after the New Year. We also open on training days. Please contact us to find out more.
The Club aims to provide high quality, affordable, reliable and accessible childcare to parents and carers, especially those who are working or training. Our dedicated and friendly staff endeavour to meet all our children's individual needs and to support their educational and social development through a wide range of activities.
Elvington Out of School Club provides a fun, exciting and safe environment with excellent facilities including a large indoor area with a range of toys, books and games, and supervised access to an outside patio area, playing field and nearby play park.
We are a Charitable Incorporated Organisation (CIO) (Registered ICO No. 1152686) and are run by a committee of trustees.
This website aims to provide you with all the information you should need about our Out of School Club but if you have any questions or queries that are not answered on the site, please contact us to find out more.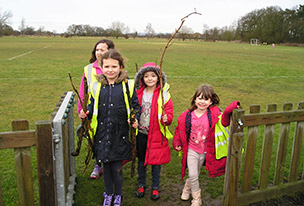 Time for some thank you's from the committee to our parents and supporters: Many thanks to the Derwent Lions for our fab sandpit and garden area - much appreciated over the summer! And a big thank you to Lisa and family for the big comfy sofa for our quiet corner. Thanks to the Sports Club too for sharing the cost of getting wi fi installed for the clubhouse.
Posted 28 days ago